Obama qualifies as socialist. Watch this video.
Barack Obama is at best a socialist, and at worst, a closet radical. His numerous ties to the most onerous of America bashers, hate mongers, radicals, racists and outright terrorists show his true colors, and they are not Red, White & Blue! These ties are a clear indicator of the real Obama agenda. Obama is an icon for socialist radicals hijacking this nation.
He constantly states, "Believe me and not your lying eyes." Never in the history of the United States has there been a less-qualified, less-trusted, more-suspect candidate whom the Main Stream Media will not expose and even endorses! You can stop what is happening to our Greatest Country in history!

Obama qualifies as socialist. Watch this video.
A Marcher made this video for FreedomMarch.org. What a Patriot. BackItUpWithFacts.com Another Video you Need to see:

The Compass feedburner
Search This Site
Blog Stats
192,484 people had a chance to learn something
Obama…How's that working for you
You support Barack Hussein Obama because he is black;
I dislike him because he is a Marxist and an inexperienced hack.


Men are from Mars, Women are from Venus, Gays are from Uranus.


Did you know that in 1872 Muslims invented a condom, using a goat's lower intestine?
And that subsequently in 1873 the British somewhat refined the idea by taking the intestine out of the goat first?


According to Obama there are 57 US States in this country.... What a smart man you chose for your messiah. hahahahahah


Where The Compass visitors come from: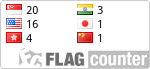 Obama Claus
Recent Posts
Blog Honor Roll
Archives